Elk, Moose, and Mountain Goat with Wide Single Bevel Broadheads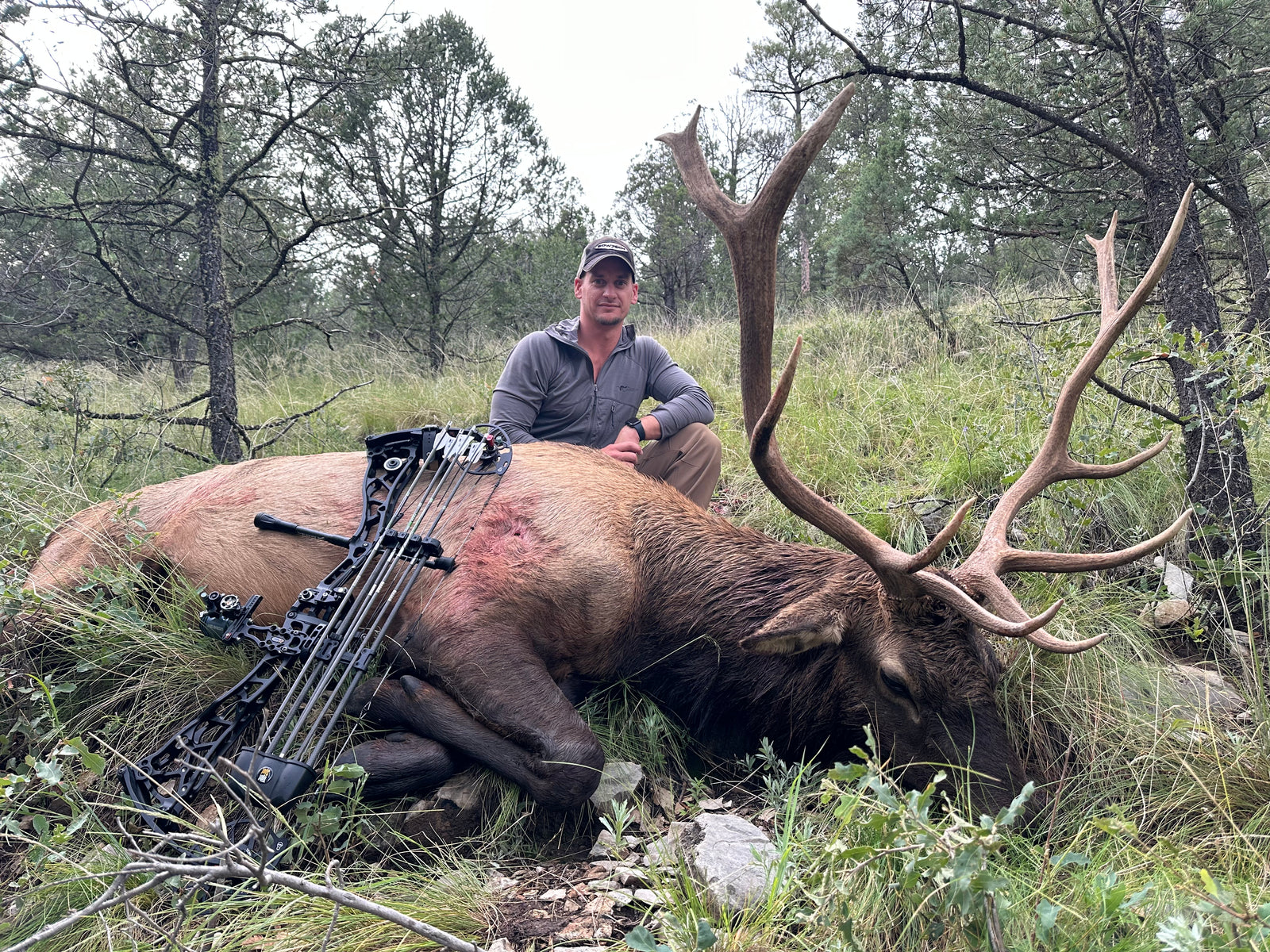 "Iron Will team,

Wanted to provide a quick thank you note for your amazing products. I'm 3 for 3 on hunts this year.

Bowtech SS34, 73 lbs, 29.5 inch draw.
Iron Will custom 5MM Axis arrows, 15 grain HIT + 10 grain impact collar with 150 grain Single Bevel Wide Series broadhead w/ bleeders up front. Total arrow weight 535 grains.

New Mexico Elk:
40 yard broadside shot shooting through some light brush. Arrow flew true even after nicking a couple of twigs, double lung 2 inches above the heart. Split a rib going in, and another going out, still a complete pass through. He ran at full speed for just a few seconds and piled up in 100 yards.

Despite looking for 30 minutes, I was unable to find the arrow.
Alberta Moose:
This was my 3rd year trying to get a moose in Alberta, and I finally got a shot opportunity. Not the biggest bull around by any stretch of the imagination, but was very happy to finally get one on the ground. 55 yard quartering to shot. Just behind the shoulder, split a rib going in, top of heart, both lungs and exit liver. Complete pass through, and he went 80 yards. Looked for the arrow for over an hour and was unable to find it, and not a drop of blood. Despite lack of a blood trail, it was a devastating hit.
Kodiak Mountain Goat:
7 days of mountain hunting will wear you down, but it only takes a few seconds to make the trip worth it. I was told going into this hunt most bow hunters end up changing their minds and shooting one with a rifle, but I had my heart set on using the bow. With just 90 minutes of daylight on my last day, had a billy walking a ridge line headed straight for us. Crouched down just below the peak, waiting for another 20 minutes, I caught a glimpse of his back just 30 yards away and drew. I thought he was going to the left of the peak to present a nice 20 yard broadside shot, but instead he crested the peak directly in front of me at 12 feet. Frontal shot at 12 feet is devastating. Goats are tough, and he ran about 250 yards straight down the mountain before piling up. Again, complete pass through, this time was able to recover the arrow and the broad head is still razor sharp. After going the complete length of the billy's body, the arrow went another 30 feet!
Big fan of the Wide Single Bevel series, they do the job well. Not much for a blood trail on any of these, but luckily the blood trail was not needed."

— Ryan Booth
---